Garrett CoWorking Center in Hazelwood, Missouri, is a unique and affordable coworking space designed specifically for small and start-up businesses to enjoy convenient amenities often found only in larger business settings.
Garrett CoWorking Center provides the perks you can't find working from your home or a wifi-enabled restaurant – a professional environment that includes a modern conference room and high-speed secure wifi in a convenient location.
The environment and atmosphere you need to enhance your productivity as an independent professional is at Garrett CoWorking Center.
Check out our Amenities, review our Floor Plan, and select the Membership Plan that fits your needs!
Six (6) Dedicated Desks are currently available!
Secure access 6:00 am – 12:00 midnight offers flexible working hours

Month-to-month Membership with no contract, lease, or negotiating

Professional physical mailing address

Private offices, dedicated desks, and common shared spaces

Four (4) Membership Plans to fit different needs and budgets

Ideal for freelancers, remote corporate workers, entrepreneurs, and legal, medical, and financial professionals

Super-fast secure wifi access

Two restrooms – one handicapped accessible
Dedicated Desk Members can upgrade to an Unfurnished Office Membership when space becomes available

Conference room for up to 6 people

Small storage areas available with office membership at additional monthly fee (currently all are leased)

Printer / copier / scanner (you provide paper)

Kitchenette with refrigerator, sink, microwave, and lunch table

Keurig coffeemaker in kitchenette with Donut Shop flavor coffee or bring your own

FREE parking in front of building

Easy access on/off Lindbergh Boulevard and 1 mile from I-270
Whether you need a mailing address, meeting space, or a private office to conduct your business,
Garrett CoWorking Center has a Membership Plan that will work for you!
Check out the Membership spaces currently available at
Garrett CoWorking Center.
Schedule your FREE TOUR now!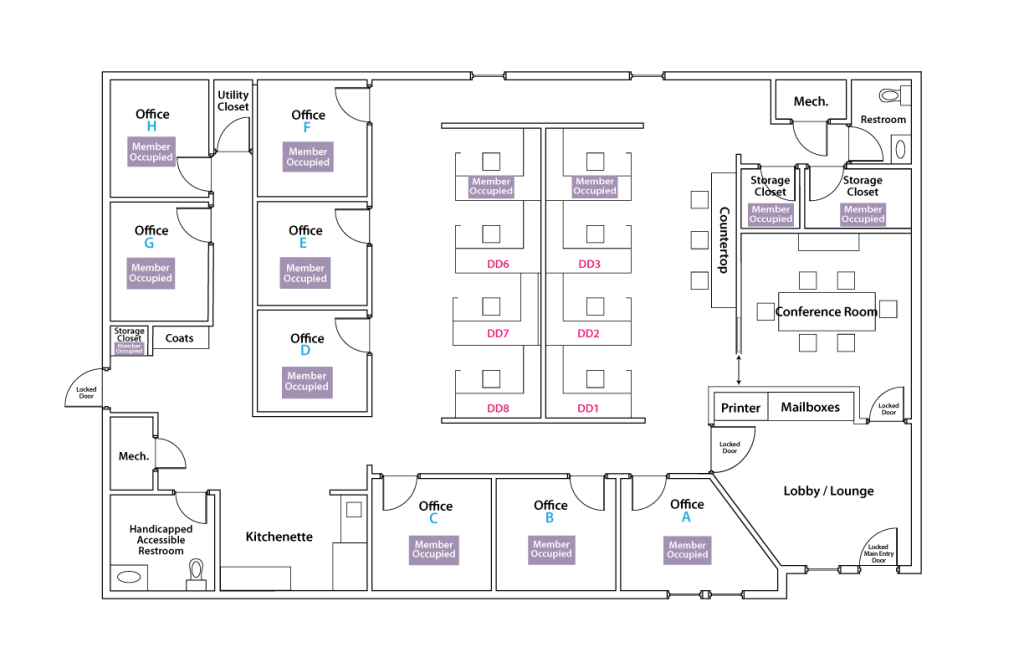 Q: What is the difference between a Member and a Dedicated Desk membership?
A: A Member is allowed to work at an open desk 24/7, use our printing services, mail service and receive a discounted rental of the conference room of $25/hr or $200/day and all the hot coffee you can drink. Our Dedicated Desk membership is a designated desk that you can work at every time you're here, plus all Member level benefits. And because you're the only one using your Dedicated Desk, you can leave and lock up your belongings inside the desk.
Q: What is a Virtual Member?
A: Just that. You get a physical address that isn't a PO box. And when you get mail, we will text you or send you an email. Whichever you prefer. This is the only Membership Plan that isn't on a month-to-month rate. We require a 3-month minimum.
Q: I own a business that requires special plumbing and/or electrical hook-ups. Is this available?
A: Garrett CoWorking Center cannot accommodate businesses that require special plumbing and/or electrical needs. Please read our Amenities section for the benefits that each Membership Plan includes.
Q: I'm not a current Member – am I still able to rent the Conference Room?
A: We allow non-members the option to use our Conference Room for a rate of $35/hour or $250/day. We require a $100 deposit at booking.
Q: I am a start-up business and am not sure if I can commit to the leasing requirements.
A: We're always interested in helping accommodate start-up businesses/individuals. In other words, if you are concerned about something, let's talk! Call us at 636-236-8452.
Q: How much does it cost to join?
A: No matter which Membership Plan you choose, a one-time application fee of $35 is required.
Q: How do I get on a waiting list for a private office?
A: Dedicated Desk Members are automatically placed on our private office wait list as they enroll in Membership. Then when a private office becomes available, we contact our list of Dedicated Desk Members to determine your interest in a private office.